Cher Gopman, the renowned dating coach and wing-woman announce its wide array of services and date coaching all over the world. NYC Wing woman and date coach offer loads of services that provides singles the much-needed techniques to help find love and their dream spouse.
Finding that perfect match is a challenging task for singles. With each and every individual comes lots of differences, taste, likes and dislikes that form the basis for difficulties experienced in finding the guy or girl to love. NYC Wing woman solves these problems by creating and offering unique services aimed at building the courage and confidence to land your very own. NYC wing woman's range of services simplifies the choice of a dating coach and wing woman for all singles in NYC which enables them to attract potential love interest, having wing woman start up conversations between male or female and client.
NYC Wing woman is helpful for men as she knows what women want and what they look for in a man and can teach her clients how to be that person. In contrast to that, NYC Wing woman is ideal for women because unlike many dating coaches, Cher has been there and done that and is married! She knows what works to get the man, and she will teach you exactly what you need to do to get yours!!
"We are glad to introduce our services to our clients and prospective clients." We wanted to not only teach all the techniques required to land the dream spouse, but also instill the courage and confidence to date among singles in NYC. Says Cher Gopman.
She says further, "We believe everyone deserves a chance to find their soul mate, and that's what NYC wing woman hold as a priority."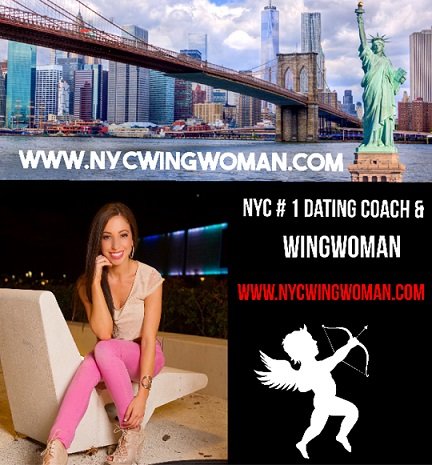 About NYC Wing Woman Cher Gopman
Starting her career as a psychiatric nurse for four years, Cher is a self-taught NYC Wing Woman for over a three-year period. She has worked her way up from a nurse to world-renowned date coach and Wing woman. Cher Gopman is a living proof having used all techniques and tactics to land the man of her dreams. The NYC wing woman started the company because she was always the go-to by friends for advice, and would often work as their wing woman. After many successful relationships have been built with her guidance and assistance, she conceived the idea that she could make a difference in many more lives and started her company with high level of optimism to help much more people build confidence in relationships and assist them to understand what men and women look for when finding a partner.
Chers' key service features:
One on one coaching session
Real-time feedback
30-minute mock date
Your Best Friend (Secret Wing woman)
Texting/Call help
Dating Makeover
you can email her on [email protected] or reach out to her through her website www.nycwingwoman.com.